Sitz Family Hosts 45th Annual Angus Bull Sale
Burwell, Nebraska
The Mike Sitz Family held their 45th Annual Bull Sale on Monday, February 5, 2018, at the Burwell Livestock Market, Burwell, Nebraska. Potential buyers left their stock trailers home, and braved the freezing temperatures and icy roads to attend the sale.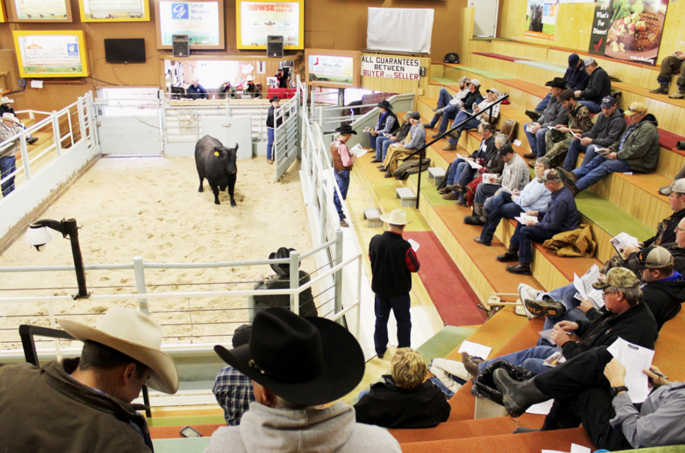 The surrounding weather conditions made it a tough day to sell bulls, but a good day to buy bulls for those who made the effort to attend the sale. These moderate framed, maternal bulls averaged $4492 with 88% of the bulls selling to repeat customers.

The high selling bull was Lot 12, MSAR Game Day 6986 selling to repeat customer, Hauserman Ranch, North Platte, NE for $11,500. This thick, deep-bodied bull with high ratios is from MSAR Game Day 4053 and a MSAR Foghorn 6696 daughter. He had a Wean Ratio of 134 and a Yearling Ratio of 123, with a 76-pound birth weight. The bullís EPDís were +7 for CED, +1.3 Birth, +60 for Wean, +99 for Yearling, +10 for CEM and +28 for Milk.


Hauserman Ranch went on to purchase Lot 14, MSAR Emblazon 4079-6111, the second high selling bull for $8750. He had a +10 CED, and + 0.9 Birth, a +45 Wean, a +78 Yearling, + 9 CEM, +24 Milk, with a 69 pound birth weight. He had a Wean Ratio of 107 and a Yearling Ratio of 106. This bull was from MSAR Emblazon 2092-4079 and from the Blackbird cow line with MSAR Right Time 7757 as a maternal grandsire.

Brandon Bruha, another repeat customer, purchased Lot 50, MSAR Chinook 6856, for $8000. This is a son of MSAR Chinook 9569 with MSAR Wilfred 0041 as the Maternal Grandsire on the bottom side. He had +9 for CED, +1.7 Birth, +41 Wean, +82 Yearling, +11 CEM, +25 Milk, with a 67-pound birth weight, and a Wean Ratio of 112 and a Yearling Ratio of 112.

Mike Baxter, Ainsworth, was the auctioneer.




HOME I HISTORY I SIRES I FEMALES I COW HERD I BULL SALE I PHOTO GALLERY I CATALOG I CARCASS DATA I CONTACT US
©2010 Copyright Mike Sitz Angus Ranch. All Rights Reserved.