48th Mike Sitz Angus Ranch / Joel Johnston Angus
Hosts 48th Annual Bull Sale
Mike and Debra Sitz, and Joel and Bethany Johnston, held their 48th Annual Bull Sale on Monday, February 1, 2021, at the Burwell Livestock Market, Burwell, Nebraska. The Sitz family have devoted 98 years focusing on maternal traits and building a cowherd centered around functional and problem free genetics. These were the most uniform set of bulls yet offered to date. 89 head of bulls averaged $4809.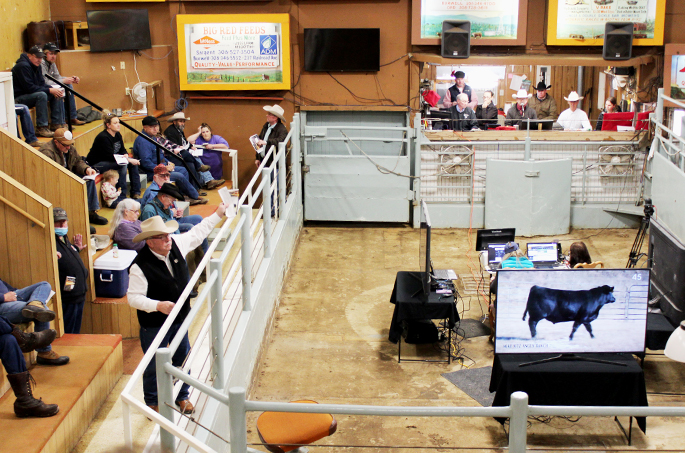 The high selling bull was Lot 47, MSAR Emblazon 2092 Ė 9071, selling to repeat customer, Hauserman Ranch, North Platte, NE for $12,500. This long-bodied, well-muscled bull is from home raised MSAR Emblazon 2092 and MSAR Foghorn 3104 daughter, from the Evidences Eppionia cow family. He has a Wean Ratio of 113 and a Yearling Ratio of 114, with a 86-pound birth weight. The bullís EPDís were +4 for CED, +3.2 Birth, +54 for Wean, +91 for Yearling, + 7 for CEM and +29 for Milk. He had ratios of 113 for Wean and 114 for Yearling, with a birth weight of 86 pounds.
Another MSAR Emblazon 2092 son sold to repeat customers LB Haase and Sons, Inc, Valentine, purchasing Lot 37, Ransomís Emblazon 2092 Ė 9037. He was the second high selling bull for $10,000. This bull is a smooth, eye appealing calving ease bull from a CAR Chinnook 786 daughter and the Blackbird cow line. He had a + 16 CED, and -1.9 Birth, a +48 Wean, a +78 Yearling, + 12 CEM, +26 Milk, with a 69-pound birth weight, with a Wean Ratio of 105 and a Yearling Ratio of 106.


Repeat customer, Dan Carstens, Ericson, purchased Lot 70, MSAR New Addition 9010, an E&B New Addition 608 son for $10,000. Another heifer bull deluxe, this deep bodied, eye-appealing bull has a Wean Ratio of 101, and a Yearling Ratio of 102. This bull has seven Pathfinder sire and damís in his three-generation pedigree, including Papa Forte 1921, Sitz Dash, and Traveler bloodlines. He has + 13 CED, and -0.9 Birth, a +43 Wean, a +82 Yearling, + 12 CEM, +32 Milk, with a 68-pound birth weight. His dam is from the Blackbird cow family and has 9 calves at 98 for Birth, 9 calves at 103 for Wean, and 8 calves at 103 for Yearling.
Mike Baxter, Ainsworth, was the auctioneer.
HOME I HISTORY I SIRES I FEMALES I COW HERD I BULL SALE I PHOTO GALLERY I CATALOG I CARCASS DATA I CONTACT US
©2010 Copyright Mike Sitz Angus Ranch. All Rights Reserved.